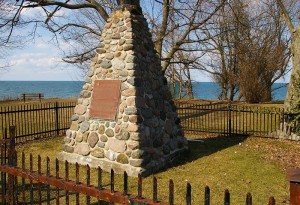 The Battle of Fort George Marker
On May 27, 1813, Fort George  was the object of a large amphibious assault that lead to the loss of Fort George to the Americans. As the British retreated they destroyed most of the fort except for the powder magazine. The Americans repaired and fortified the fort and constructed extensive fortifications around its perimeter.
During a long, cold Canadian winter, the American army decided it was unproductive to remain on the Niagara frontier, so they left Fort George in December, destroying the building and also burning the town of what is now Niagara-on-the-Lake. The British repossessed the fort and it remained in their hands until the end of the war.
The inscription on the plaque reads,
On the 25th May, 1813, the American Fleet and the Batteries at Fort Niagara across the river began a devastating two-day bombardment of Fort George. On the 27th a large American force was landed and after a brief engagement in which his outnumbered garrison sustained heavy casualties, Brigadier-General John Vincent made an orderly withdrawl towards Burlington. The capture of Fort George left the Americans in control of the Niagara Frontier, but Vincent's troops a week later won a decisive victory at Stoney Creek, preventing the Americans from gaining the whole peninsula.
Le 25 mai 1813, la flotte américaine et les batteries du fort Niagara, commencèrent à bombarder le fort George. Le 27, de nombreuses troupes américaines débarquèrent. Après un bref engagement, au cours duquel sa garnison, bien inférieure en nombre, subit de lourdes pertes, le brigadier-général John Vincent se replia sur Burlington. La capture du fort laissait les Américaines maîtres de la région frontalière du Niagara. Une semaine plus tard, les troupes de Vincent remportèrent une victoire décisive à Stoney Creek, empêchant ainsi les Américains de prendre possession de toute la péninsule.
Historic Sites and Monuments Board of Canada
Commission des lieux et monuments historiques du Canada
Government of Canada — Gouvernement du Canada
Battle of Fort George Monument – Map and Driving Directions
Click on the flag for driving directions and information.

Other Links: