The historic O'Reilly's Bridge spanning the Welland River on the Pelham-Wainfleet border.
Until 2010 the oldest structure spanning the Welland river was O'Reilly's Bridge. Built in 1901 O'Reilly's Bridge was a single-lane iron truss bridge, the only one of its kind on the entire river, and one of the oldest iron truss bridges in Southern Ontario. The bridge crossed the Welland river linking the townships of Pelham and Wainfleet.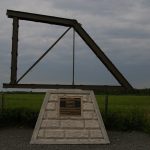 O'Reilly's Bridge was demolished in 2010 and was replaced with a more modern, wider span. Across the new bridge on the north side, a portion of the old bridge along with a plaque pays homage to the original span.