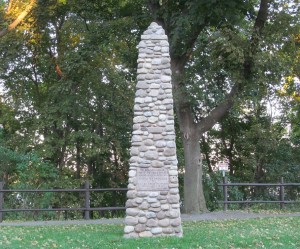 This commemorative cairn recognizes the Pavilion Hotel built in 1822 by William Forsyth, a prominent local businessman.
The hotel was an impressive three storey building boasting huge colonial pillars and offered balconies with unparalleled views of the Falls. At the time The Pavilion that was the largest hotel in either Canada or America.
The cairn was originally located at the intersection of Portage Road and Buchanan Avenue but was moved to its current location in or around late 1999, early 2000. The move and reconstruction of the cairn was accomplished through the generosity of the Menechella Family and with the co-operation of the City of Niagara Falls and the Niagara Parks Commission. Re-Dedicated under the auspices of the Lundy's Lane Historical Society. October 1, 2000.
Its current location on Portage Road is next to a small parking lot and directly across from another historic site, Our Lady Of Peace Roman Catholic Church, c. 1837.
The inscription on the plaque reads:
To commemorate City of the Falls. Project
Launched 1832. Collapsed 1835
Site of N.F.Pavilion Hotel.
Built 1821. Burned Feb. 19th 1839.
Rebuilt About 1840.
Lundy's Lane Historical Society 1835.
Photos
Map