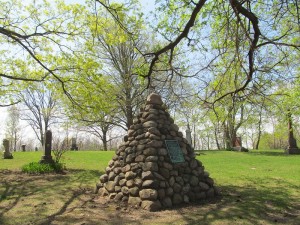 Homer Anglican Cemetery is located on Regional Road 81, here known as Queenston St., at the border of St. Catharines and Niagara-on-the-Lake. The cemetery is under the care of the Town of Niagara-on-the-Lake > Operations > Parks and Recreation.
This cemetery has historical significance in Niagara being home to the first Anglican Church in the region which was call Nassau at the time. The church was established in or around 1795 by United Empire Loyalist William Read and a group of British subjects.
Many names that are engrained in the history of Niagara adorn the headstones. A stroll through the cemetery will reveal connections dating back into the 1700's with names such as Ball and Secord commonplace. There are many headstones that have fallen but the Town of Niagara-on-the-Lake does a great job at keeping them visible and and relatively legible.
There is a commemorative cairn and plaque on one side of the cemetery with the original stairs still in place on the other. The cairn was installed in September 1937 by the Homer Burying Ground Committee.
The inscription on the plaque reads:
"At our near this spot in the year 1795 or earlier William Read U.E.L. and a band of British subjects amidst the pine forest erected the first Anglican church in the district of Nassau (Niagara) in which divine service was held by the Rev. Robt. Addison
This God's Acre and church was dedicated to Homer Episcopal Congregation in the year 1799. Stephen Emmett Latham Stull Church Wardens. Erected by the Homer Burying Ground Com. Sept. 1937″
Homer Cemetery Photos
Map